20
Jun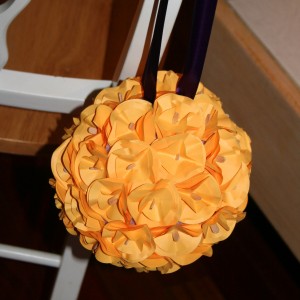 After some trial and error I was able to make a Pomander that I am actually excited about. These particular ones will used for our ceremony at the Rock Garden. I have two values of pastels that I plan to use. Tonight I was only able to get one value done.
I created a step by step PDF of the process (link below). I know other crafty brides many want to use the DIY as a reference as I done so with other creative brides who have posted. I was also able to be create a mock up of a table ID (it mirrors the super hero theme we have going, flippin Awesome!!!), I will post that at another time along with the vector illustrations. There are soooo many DIY projects on the list and I plan to document the whole process (crazy ya!). Our wedding journey has been very colorful and exciting so far. I can only imagine what the big day will encompass once we are there. However for now I will attempt to "Live in the NOW" imperfectly.
Below is the PDF tutorial DIY link, project 1:
Pomander_Gohman
OMG ya I'm crazy, and I'm totally cool with that! The goal is to personalize our wedding and to form it to us. Lots of good stuff in the making. Word.