5
Jun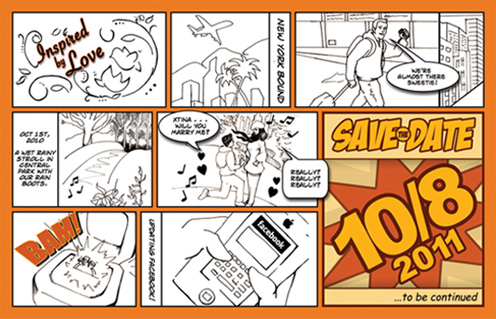 Yay our website is finally live! We are still in the process of polishing and spit shining, but decided to set it free for all to see! Mitch and I are so excited to share this part of our journey with you.
Please tune in to learn about the update our our big day. We have some surprises in store. And you may find at times something wonderful about you may be featured here

We hope that you have received our "Save The Date" postcards. Hopefully you did not think it was junk mail and toss it (I am aware of a few close calls.) If you did, that's ok because lucky you we have used it to create our first post! I sketched out the story, Mitch inked it in, and we both transferred it digitally.
I was inspired by our engagement on October 1st, 2010 to re-create the proposal. We had the honor of attending my awesome cousin Benny's wedding. Thank you Benny and Julie for inspiring us! I still love to think about our time in New York.
. . . stay tuned.